Welcome To Compute Thing Limited
Welcome to Compute Thing - the work of Michael Wilkinson.
Compute Thing is currently engaged in the provision of a Python based automated test solution for a client.
Compute Thing would be happy to discuss future services related to:
Python Software development
Embedded, device and IoT development
Software test management
Project management
Automated test infrastructure development
Compute Thing Limited
Compute Thing Limited is a source of software development, test management and embedded systems talent. With a background in software and testing for systems that could loosely be described as "TV, radio and media", but in reality cover a broad variety of large, complex systems of servers, PC software and intelligent devices:
TV - CCTV from captured image to management software and large Network Video Recorders and servers
Radio - WIFI, UMTS, GPRS, Tetra networks and PMR two-way radio handsets. IoT devices with cellular, WIFI, NFC and LAN connectivity
other media - real-time fault tolerant Operating System development for public telephone exchanges
Why "Compute Thing" ?
My work has included testing and development of software for standard PCs, workstation and servers. However, it has always had an emphasis on systems that include appliances, real-time systems, network communications, and things that are operated without a keyboard, screen and mouse. i.e. "Things that Compute" that may not always be described as "Computers". There has been an emphasis on machine to machine communication, and other elements which are now described as part of the " Internet of Things".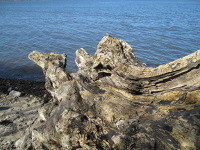 Compute Thing is based in South Queensferry, just outside Edinburgh on the Forth Coast. Nearby are quiet beaches, Port Edgar Marina and a few famous bridges. (The driftwood pictured here is close to the new Queensferry Crossing).